Ultra-Slim, Intelligent, Modular Signage Solutions
01-08-2020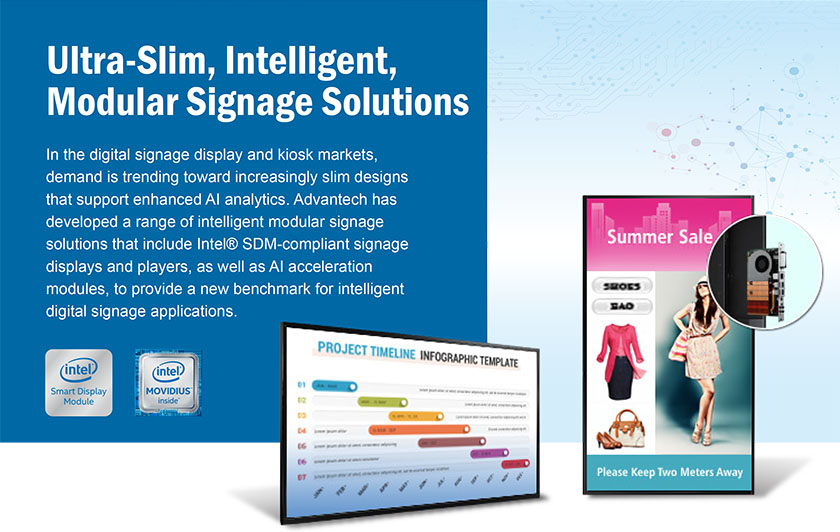 In the digital signage display and kiosk markets, demand is trending toward increasingly slim designs that support enhanced AI analytics. Advantech has developed a range of intelligent modular signage solutions that include Intel® SDM-compliant signage displays and players, as well as AI acceleration modules, to provide a new benchmark for intelligent digital signage applications.
Scalable and Sleek Modular Design
Advantech offers VUE-5550 and VUE-5430, which equips with Intel SDM or OPS (open pluggable specification) slots for customers hoping to have signage with an operating system. VUE-5000 is capable of UHD (4K2K) resolution and offers HDMI and USB ports for connecting with digital devices.
In addition, Advantech's DSD-7055 signage display can be integrated with its DS-200 signage player to provide a scalable signage solution that complies with Intel® SDM-L specifications. The modular design ensures flexible installation and configuration for easy maintenance and upgrades.
The solution can be equipped with an add-on VEGA-320 AI acceleration module for conducting real-time analysis to enable facial recognition functions, interactive operations, and personalized marketing applications.
Convenient Remote Management
The DS-200 signage player is preloaded with Advantech's WISE-DeviceOn remote management software and Signage CMS content management software to enable convenient and remote signage content management.
Recommended Product Offerings
VUE-5550 / Advantech 55" 4K Ultra HD Digital Signage, Landscape/Portrait
VUE-5430 / Advantech 43" 4K Ultra HD Digital Signage, Landscape/Portrait
DSD-7055 / 55" FHD Signage Display, 500nits, with SDM slot
DS-200 / 8th Generation Intel® Coffee Lake H SDM-L Signage Player
VEGA-320 / m.2 Edge AI Module with one Intel® Movidius™ Myriad™ X VPU onboard