Advantech Certified PCAP Touch Module Solutions and Services Ensure Maximum Reliability and Flexibility
04-02-2019

Touch functionality is increasingly critical to both consumer electronics and industrial devices. Below you will find useful information addressing common inquiries for any Advantech product or device with PCAP (Projected Capacitive) touch functionality. Advantech unveiled six (6) PCAP standard modules in 2018: 10.1", 12.1", 15.0", 15.6", 18.5" and 21.5" with 91.7% usage among Advantech PCAP touch panel modules. With Advantech's usage and experiences, we are confident in our touch IC, sensors and overall module performance. Customers are able to have customized items from standard modules.
Advantech's in-house development team focuses on supporting customers as they integrate the touch display into overall systems. Not only are touch sensors, controllers, and firmware perfectly aligned with each other, but also with requirements regarding glove, water, salt water, and dirt compatibility. EMC compatibility is guaranteed.
Here are some tips for selecting or customizing the proper PCAP touch panel module, as well as the standard PCAP modules at end of the news. Take a look at the standard modules, or follow the steps to customize the module(s).
TPM (touch panel module) stack-up is the first step when selecting the PCAP module. The TPM consists of the cover glass (or cover lens), touch sensor, and touch IC. Generally, G/G and G/F/F are the two stack-up types used for industrial applications.
G/G: cover glass + glass sensor (there are DITO and SITO types for glass sensors)
G/F/F: cover glass + film sensor (x-axis electrodes) + film sensor (y-axis electrodes)
For the next step, please select the cover glass type. Depending on the application, the cover glass may require strengthening from Corning (Gorilla), Asahi (DragonTrail), soda-lime type, or any special type for cover glass. Check whether any cover glass treatment is required or not, for instance: anti-glare (AG), anti-reflection (AR), anti-finger (AF) treatment, or any logo/virtual icon/special color printing on the cover glass.
After deciding the sensor and cover glass for the TPM, you still need the IC to have firmware to drive the module. Following this, you will select the touch IC solution.
If the device is going to be deployed in a loud environment, you may need an IC with CS10V capability for noise defense. For general purpose usage, select a normal IC with CS3V capability.
Finally, decide on the appropriate connection type between the touch sensors and touch IC. There are two main types for the connection. One is the COF type, where the IC will be bonded on the FPC and then bonded with touch sensors. The second type is COB, where the FPC is bonded with the touch sensors and then connected when the touch IC is mounted to the PCB. The initial cost for COF is cheaper than COB. However, for COF, keep in mind that in the event of a defect there is no way to fix it other than removing the whole TPM and returning it for repair.
Following these steps, you can now check with the mechanical engineers and ID designers for customized customer model(s).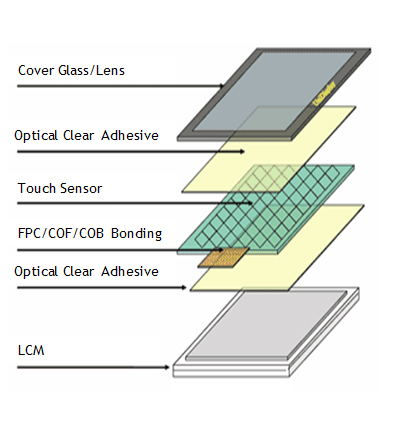 Following the steps above, once receiving a customer TPM inquiry, we can offer proper TPM models to fulfil the inquiry. There are some standard PCAP TPMs to follow. First make a survey among the models and then get back to PAPS with any customized inquiries.