Advantech's CPU Coolers Certified with Intel Thermal Profile
09-02-2018

Choosing the correct thermal components to fulfill diversified applications is a challenge for most customers. There are many other function-specific components in a computer, but these are the most essential and need careful consideration when designing a dependable cooling system. Advantech's CPU Cooler WIN series is certified with Intel's thermal profile to ensure it's stable, reliable, and efficient.
We have a tool that can be used when it comes to embedded hardware thermal design. The thermal test vehicle (TTV) is a thermal solution validation tool that physically represents a CPU or chipset but instead of a real functional chip, has a resistive heater and temperature sensors in the chip that can be used for initial design and testing of thermal solutions. It does this by emulating local or uniform power dissipation within the testing process.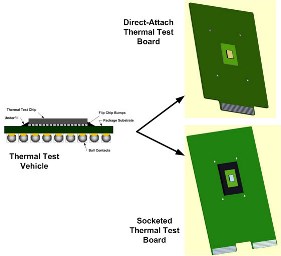 CPU
The central part of PC, CPUs are normally considered the most heat-generating and temperature-sensitive components in the computing system.Processors are designed with ever increasing higher speeds, which usually means more wattage is needed and more heat is generated. If the CPU overheats, it may either cause temporary system crashes or even permanent damage to a system.
Advantech CPU Cooler Product Offerings
All Advantech PAPS CPU cooler products will show which sockets they are compatible with on a specifications table located on the Advantech web page. Users can also find the maximum Thermal Design Power (TDP) rating that coolers support. Please note that even though a cooler fits a socket it does not mean it is suitable for your PC. You need to consider the height of Cooler, how much heat the CPU generates, and the wind flow from CPU coolers.

Summary
When designing a cooling system, users must balance cost and performance to reach the most efficient total cost of ownership. A good thermal design considers all elements such as fan type (ball bearing vs sleeve bearing), height of coolers, and wind flow around all components to design a robust cooling solution.
For the next generation of IPC systems, whether it's drawing cool air into a system or using liquid to cool it down, a well-designed thermal system will continue to perform as the heart of an IPC system.