Advantech Offers Valuable Transportation Power Supplies and Services
03-04-2019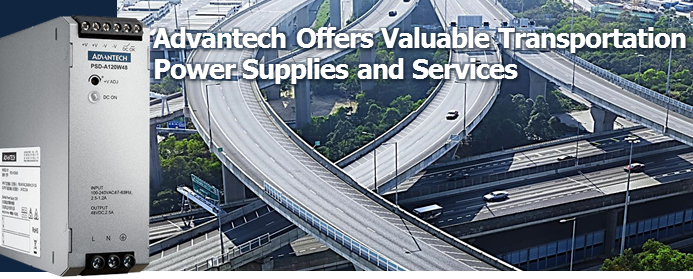 Increasing worldwide traffic volumes go hand-in-hand with growing demand for real-time monitoring systems. Unsurprisingly, transportation applications in this field are becoming more diverse and intelligent, including: highway tunnel monitoring control systems, automated fare collection systems, and railway applications — encompassing air conditioning, signaling system, communication, and train protection — both within the train cabin and on the track. For these diverse applications, Advantech offers different power supply form factors, including DIN-Rail, open frame, and DC-DC converter to fulfill market demand.
When choosing power supplies for the transportation field, applications fall into two categories: outside the vehicle and in-vehicle. For outside vehicle applications, such as roadway management, wayside signaling, and train station management, power supply has to meet at least the EN60950 standard. For in-vehicle and in-train solutions, the power supply requirement is stricter; it must meet EN50155. In certain cases, an additional EN45545-2 standard for fire protection and an IEC61373 standard for shock and vibration are required to ensure reliability and efficiency.
With that in mind, Advantech released a series of DIN-Rail and open frames in compliance with the EN 60950 standard. They are able to support customization in product design and hold safety certificates for a variety of applications. Certified and experienced suppliers offer high-value models.
Case Study - Roadway Solution
Advantech cooperated with an American customer to implement our intelligent transportation system with EKI-7712G-4FPI-AE and a high powered PoE switch. The system is powered by Advantech DIN-Rail PSD-A120W48 with compact dimensions featuring a narrow design width of only 32 mm to manage traffic signals for up to 430 intersections through a fiber network covering an entire city. The system can handle tough outdoor environmental conditions due to its rugged design and wide temperature range (up to 70°C).