Advantech Offers Signage Solutions for Various Smart-Office Applications
02-05-2019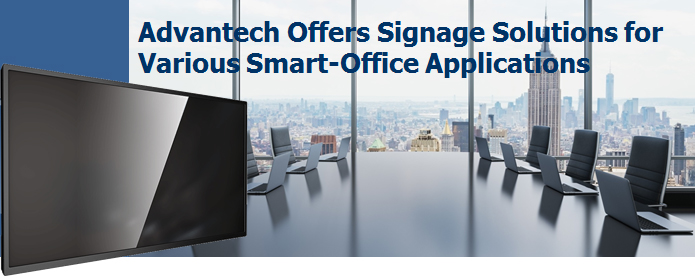 Projectors, displays (monitor), video conference cameras, and mobile devices for point-to-point video talking are all commonly used optical devices found in meeting rooms.
Now, Advantech meets the need for 1) projector replacement, 2) task collaboration on high-resolution (UHD, 4K2K) wireless presentation systems, and 3) video conference demand to unveil "Conference Signage", which are converged displays for meeting rooms and conferences. Features include: touch display, Advantech SDM (smart display modules), web cameras, microphones, WPS (wireless presentation system), and WISE-PaaS software. The design concept is shown here: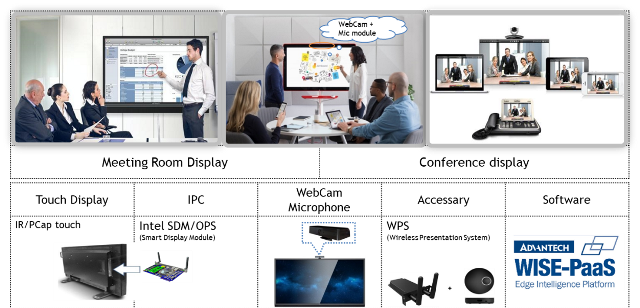 The first model for our "Conference Signage" application, the 65" signage (DSDC-0654K-35NE-V), will be unveiled in the second half of 2019. The model is capable of UHD (4K2K) resolution and offers four (4) HDMI ports and three (3) USB ports for connecting with digital devices. Furthermore, the model equips Intel SDM or OPS (open pluggable specification) slots for customers hoping to have signage with an operating system.
I/O ports located on the rear side of the signage connect with operating devices, like media players or wireless access points. The front I/O port design is easier than ever for office workers to input or access the system to share documents, data, and pictures.
Customers are able to select proper Intel SDM or OPS (Advantech offers the models as well) systems for their applications, as well as a camera with superior resolution and software. With an optional WPS that supports 16 people (devices) in one place, all attendees are able to enjoy remote video conferencing and switch the present ownership on the WPS.
Based on the 65" signage and different options, customers can select the best combination to fulfill their specific needs. The chart below demonstrates how different combinations fit different applications: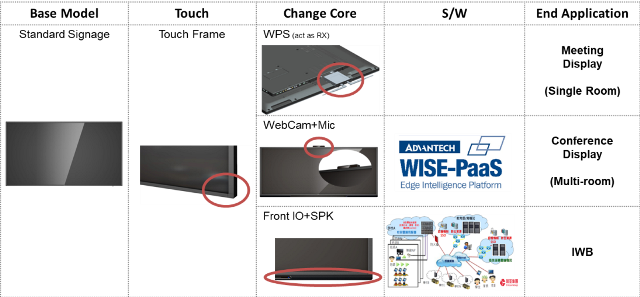 If customers still struggle to find the proper solution, Advantech suggests the combination below as a reference. Some modules are a must, while some are optional for the solution: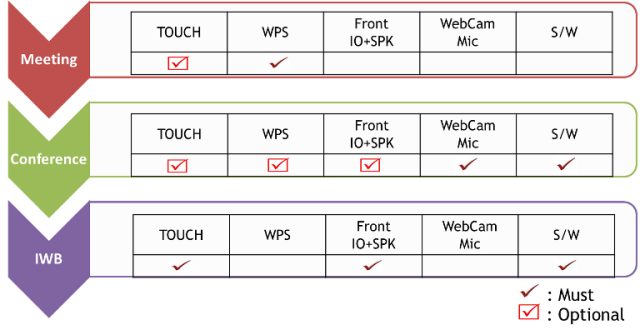 Here are some pictures of the conference signage; the pictures will give you images of the product directly.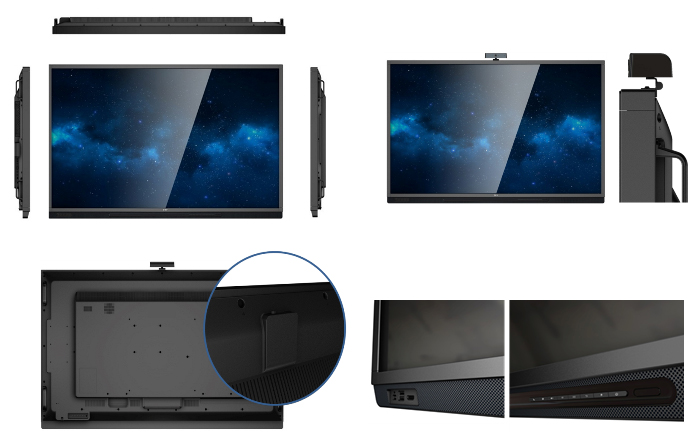 With the development of ICT (information communication technology), signage is no longer just a display mechanism for outputting images or pieces of information. The application can utilize different combinations with different devices.
Recommended Product Offerings