Advantech Puts a Unique Twist on New Technology Evaluation
20-02-2014
Test-driving cutting-edge networking gear based on the latest processors with Intel® QuickAssist acceleration, Intel® DPDK and high performance I/O has never been easier

MWC, Barcelona, Spain, Feb 20, 2014 – Advantech (TWSE: 2395.TW) today announced a unique new remote platform access service for customers to rapidly evaluate performance of latest silicon, boards and platforms. Customers can load their software onto Advantech ATCA and eATCA evaluation platforms, High Performance Servers and Network Appliances to run functional tests, to get an early start on development or for evaluation and benchmarking.

The program will initially be rolled out at two levels. For preconfigured payloads and configurations, a no-frills service with support based on best effort is being made available free-of-charge to pre-qualified customers. A premium program establishes close interactionbetween the customer's development team and Advantech service engineers to agree on a bespoke system configuration, software load and overall network requirements. Each program is accompanied by a corresponding level of service and response time.


"Customers today havelimited time and resources to procure, install and integrate blades and systems based on the latest silicon technology in their lab. What's more, R&D budgets are increasingly constrained for the purchase of early evaluation samples, in particular for high-end systems worth well over 100K$." said Peter Marek, Senior Director x86 Solutions, Advantech Networks and Communications Group. "With Advantech Remote Evaluation Services, customers can now make better use of their time, money and resources. We give them access to a secure area of our networking lab via a dedicated IP connection to run their software on our latest and greatest networking gear, no matter if it's ATCA, eATCA or one of our high end servers and appliances. "


One company that can already testify to the efficacy of the program is Polaris Networks, a leading provider of LTE EPC software solutions to Public Safety, Rural Operators andDefenseProjects worldwide. Polaris's NetEPC™ is a compact EPC-in-a-box solution (EPC Lite) which combines all the key elements of the EPC packet core – the MME, the SGW and the PGW along with the HSS, PCRF, OCS and OFCS into a single platform.


"We originally developed NetEPC™ on a standard server and ported it to MicroTCA in our labs, but a vital step for Polaris was to prove its capabilities on a NEBS-ready carrier grade ATCA Platform" said Aditya Saraf, VP, Sales and Marketing, Polaris Networks. "When Advantech offered us the opportunity to accesstheir networklab toattempt a remote port on a Netarium™-2 AdvancedTCA platform, we seized the occasion. From outset to finish took us all of three days with minimal but efficient R&D team collaboration and allowed us to commence earlier trials with customers once full system and regression tests were complete."

Polaris Networks and several Advantech technology partners are scoping ways in which the Advantech service can be offered to their customers, particularly for more complex and expensive payloads.


Ben Shen, Senior Product Manager, Advantech ATCA Systems Integration added "The systems we propose are pre-integrated application ready platforms embedded in a qualified, dedicated, and secure network test environment. Customers can easily check out the performance gains achievable on next generation Intel® CPUs and NICs or see how their software scales across multiple blades in an ATCA system. They can measure the acceleration which Intel® DPDK and Intel® QuickAssist offload can bring or simply get a grasp of terabit throughput on Advantech ATCA. Believe it or not, our base-level service is free of charge.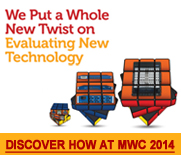 Advantech will be introducing the program to customers at Mobile World Congress in Barcelona on Feb 24-28, 2014 and at RSA in San Francisco on Feb 24-Mar1. For more details or to reserve a meeting online please contact
Eric.vanvliet@advantech.eu
for RSA,
Karen.Abbruscato@advantech.com
or register online at
http://www.advantech.com/nc/newsletter/eDM/MWC2014
The program will also be announced by Advantech at the international press conference organized by the Taiwan External Trade Development Council in Room C8, Hall 8, Fira Gran Via Conference Center at 3PM on Monday Feb 24
th
.
For more information please contact ncg@advantech.com or visit www.advantech.com/nc.